Kota Kinabalu International Airport (KKIA), Malaysia's second busiest airport, was closed, i.e. no departures and arrivals allowed during:
(i) 6.30pm 25th October (Thursday) to 6.00am 26th October (Friday). During daytime on Friday, flights were allowed, but later…
(ii) 6.30pm to 9.30pm 26th October (Friday), meaning a total of around 15 hours.
There was a total of 51 flights affected by diversion, delay and cancellations, involving some 6,000 passengers.
Cause: the runway lights were not operational. SESB MD Abd Razak Sallim was quoted to have said that an investigation of the SESB electrical installation channelling electricity to KKIA found it functioning well without any disruption to the supply.
It was a long weekend due to Eid al-Adha which fell on 26th October (Friday), so as expected, there were many people waiting to depart.
On 27th October (Saturday) around 6.30pm, MAB issued a statement:
On 25 October 2012 at 5.40pm, during normal runway inspection, the staff doing the inspection found that the runway lights were dim and not up to the required brightness. At 6.10pm the air traffic controller confirmed that the lights were dim. As such, due to safety reasons, immediate action was taken by MAHB to request that the runway be closed for further investigation of the runway lights. All airlines were immediately informed of this closure.

The engineers straight-away proceeded to inspect all the runway lighting cables and suspected that the dim lights could be due to electrical current leakage in the old cables which are in the process of being replaced by the contractor. This is part of the overall upgrading of the airport facilities including terminal, runway, taxiway and apron under the Redevelopment Project of KKIA undertaken by the government to provide capacity for growth in air travel.

Efforts were made to identify the points of leakage in the 12 km cables. This process of identifying and rectifying the leakages took time. At 6am on 26 October 2012, all rectification works had to stop to allow the runway to be used for daylight operations which do not require runway lighting.

In the meantime, the sub-contractor was requested to immediately complete the installation of the new cables and lightings. However they could only commence work after the closure of the runway for night operations after 6pm. No work is allowed to be done on the runway during operations due to safety reasons.

As a contingency, it was decided that portable lights from various airports including TUDM be shipped to Kota Kinabalu. These portable lights were scheduled to arrive on flights prior to sunset to enable night operations on 26 October 2012. However, the arrival was hampered by bad weather. The full compliment of portable lights only arrived at 8.00pm. As a result of this the airport had to be closed for night operations from 6pm to 10pm.

Note: That means the RMAF pilot landed blind at KKIA!

However, the sub-contractor for the installation of the new cables and runway lights managed to connect and light-up the runway lights to enable the runway to be operational by 9.30pm. The portable lights were therefore not required to be used.

The runway was declared safe for operations at 9.30pm on 26 October 2012 and was opened for commercial night flight operations. With the installation of this new cables and runway lightings and with the provision of back-up runway circuit, the operations are now running smoothly.
Horror stories abound, including:
Parents with very small children stuck at airport at midnight or even past midnight with no diapers, no milk, no food.

A Lydia Chong mentioned on MAS's FB page that her sister was stuck in an AirAsia plane for 5 hours without food or drink. That means that passenger has been stuck in the stationary plane for longer than it would have taken for the plane to reach KL AND return to KK, had it flown.

Achun Gee commented at AirAsia's FB page that during Friday afternoon there were fisticuffs between KKIA AirAsia staff and at least one passenger due to "unclear answers and rudeness"
Joan Moo also blogged about her harrowing experience at KKIA on the evening of 26th October. And if she tought everything's settled, there was another surprise waiting for her the next day.
Since it was an excellent local, live case study for a Business Continuity Plan / Business Continuity Management (BCM), transparency & effective use of social media, I followed the case closely, my observations include:
- The airport's main authority: Malaysia Airports Berhad (MAB), should have been the first ones to say something, but the first mention through social media was at 3.30pm the next day, 21 hours after the incident started. This mirrored the SESB case in April/May, where use of social media was also woeful. It was only at 8pm on Friday (the 2nd day of the incident) that they started actively engaging customers via the official twitter account, but not before their website seemed to have wilted under the barrage, with an error message greeting visitors: "Database Error: Unable to connect to the database:Could not connect to MySQL".
What KKIA2 looked like at 6.30pm on Friday – have you ever seen a queue this long at T2?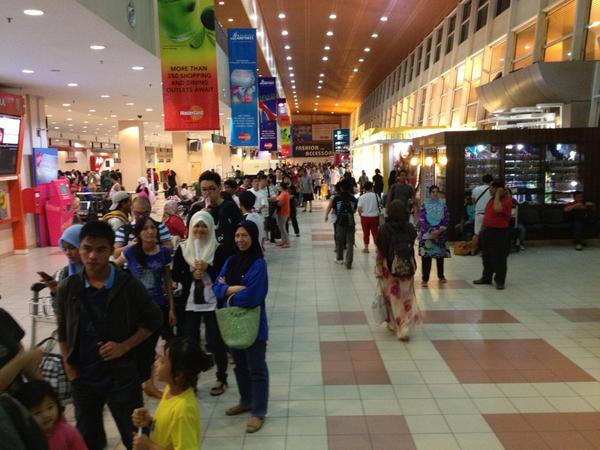 [Photo credit: Junz WonG]
- Apparently MAB had no backup plans. I hope they will keep a portable lighting system in KKIA permanently, ready to be put to use as and when necessary.
- As was before, most of the useful updates were from relevant persons who happened to be active in social media, eg the Sabah Minister of Tourism & media personnel.
- Looks like Malaysia Airlines did better than AirAsia when it comes to disseminating information through social media. Their twitter & FB accounts first reported the closure around 9.30pm (3 hour after KKIA's closure) ago & actively answered queries there. AirAsia first reported it at close to midnight (5 hours after KKIA's closure). By 8pm on Friday, as expected, language used in comments had gotten stronger, and expletives were spewing out. By midnight, AirAsia's FB page was still very "noisy" with many angry customers and AA staff trying their best to placate, while MAS FB page had been quiet for many hours already. I've read quite a bit of the complaints at MAS & AA's FB pages. Many of passengers said something to the effect of: "yes, we know it's MAB's fault, but at the same time we expect MAS & AA to take care of the welfare of the passengers."
- I was also expecting the Federal Minister of Transport to say something via social media sometime during Thursday evening, like what the Federal Minister of Energy, Green Technology and Water did (abeit one apologetic tweet) during the SESB case. Alas…
- If there's one positive, it's that the food outlets are enjoyed a mini-boom.
- The very fact that I knew all these things, most of the time without help from traditional media, is testament to the power of social media. Just a few years ago I would also be in the dark, lost in the jungle of rumours and counter-rumours.
Now I wonder how long was KKIA closed during the following incidents:
- 16 November 1991 – 3 policemen died after their Pilatus Porter Royal Malaysian Police aircraft crashed at KKIA
- 8 November 2004 – AirAsia's Boeing 737-300 with 111 passengers and 5 crew skidded while landing.
- 14 December 2005 – KKIA closed for "a few hours" after an AirAsia plane burst a tire upon landing.