Update 7 October 2012
Looks like it's supercarrier season in Malaysia: 3 days after USS John C Stennis (CVN-74) left Sabah, now it's the turn of another, virtually identical supercarrier, the USS George Washington (CVN-73) to visit: this time at Port Klang.
———————
Update 1 October 2012
There's a big reception onboard tonight hosted by the Americans, apparently on the lower deck, the place where the aircrafts are kept – 3 floors down from the flight deck.
Judging from photos tweeted by Sabah Tourism, I suppose tonight was the first time Sabahan traditional dances including the sumazau were performed on a US supercarrier.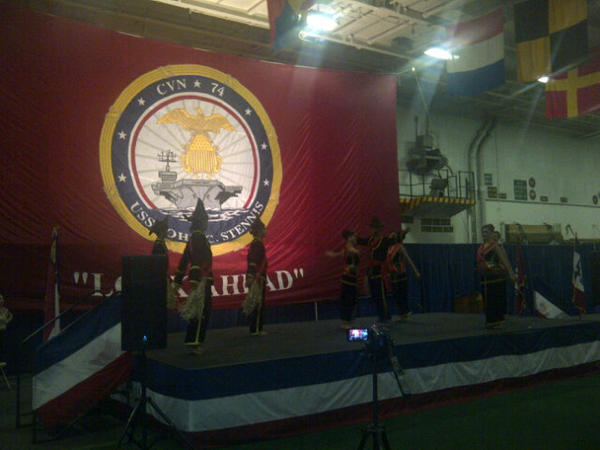 And as we'd come to expect, visitors will be given the opportunity to try out the blowpipe, as tweeted 9.31pm: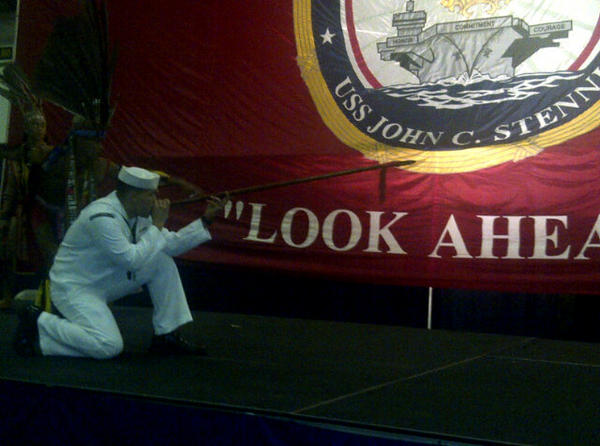 —————–
30 September 2012
The USS John C. Stennis (CVN-74), the seventh Nimitz-class nuclear-powered supercarrier in the United States Navy is in Kota Kinabalu for 4 days, the first time any aircraft carrier has visited this part of the world. It's the carrier's second visit to Malaysia – it called at Port Klang in 2011.
According to Lee McClenny, Deputy Chief of Mission from the United States Embassy, it's here on invitation by the Malaysian Government "to help build relationship between Malaysia and the United States, which is already strong but is getting stronger every day."
This is special because there are only 10 Nimitz-class supercarriers in existence, and that they are the most massive capital ships in the world. Capital ships are a navy's most important warships, having the strongest firepower and defence.
Some pics taken by Fred Foo:
The following photo was taken from Borneo Post:
The following photo was supplied by the US Navy: Kota Kinabalu visible in the background:
A select group of VIPs then experienced 4G abrupt take-offs and landings, including the MP of Kota Belud who tweeted about the experience:
I was part of a DVs group flown in on E2-Greyhound. Catapulted 0-160knots in 2 secs on take off frm the carrier's deck! What an experience!

Today's landing &taking off on #USSJohnStennis, American aircraft supercarrier was an experience I would not forget for the rest of my life!
0-160 knots in 2 seconds: 160 knots is equivalent to roughly 300 km/h. In comparison, a Formula 1 car can go 0-300 km/h in 8.6 seconds.
The big question: if VVIPs can experience "The Catapult", will the general public be at least allowed onboard?
General specs:
- 2 nuclear engines, each one capable of generating 550MW. That means, if both were on, they'd generate 1,100MW, enough to power the whole of Sabah (800MW)!
- only need refuelling once in 20 years
- length: about 333m
- height: equivalent to a 24-storey building
- weight: about 100,000 tons
- commissioned: 1995
- cost: equivalent to about RM13.5 billion
- staff: max 6,500
- top speed: 56+ km/h
- planes + helis: max 90
This supercarrier was featured in the 2009 Hollywood movie Transformers: Revenge of the Fallen.
The final words from McClenny should evoke some sniggers:
Borneo is a by-word for the exotics and the unusual … sailors go on shore for a few days to shop and see the country.
As would commanding officer Captain Ron Reis' words:
Our Sailors are looking forward to experiencing the wonderful Malaysian culture.