Update 7 October 2012
As at the time of writing:
- the youtube video's been viewed more than 3 million times
- the team received a commendation letter from the Sabah Chief Minister and even enjoyed a 30-minute high tea session with at the CM's residence
—————
Updated 4 Sep 2012
The last time I looked, it had 500K views, today I found that it has had more than 1.4 million views. It seems that Orang Sabah Style is now the FOURTH most viewed Oppa Gangnam Style parody youtube video in the whole world (discounting one made in Korea), behind one made in Thailand (2.6 million plus views), one made in the USA, and another one made in Thailand. Among the top 4, only the top video from Thailand and Orang Sabah Style bothered to make their own lyrics – the other two just mimed to the original audio.
Hong Yi, probably the first Sabahan to be a true worldwide internet celebrity has been well and truly upstaged.
What next? Well, Timothy Tiah's wedding proposal is now at 3 million views, and there's another apparently Malaysian-made video that has had an incredible 100 million views, but I'll leave you to work that one out.
As for the original video, as of the time of writing, it has had more than 100 million views, probably the most viewed K-Pop video on youtube. At second is a Girls Generation song at 84 million. And how about Wonder Girls' Nobody? A mere 50 million. But why is it so popular? The best explanation I have found so far is: the singer plays the global fool yet does a searing social critique, where he lampoons South Korea's obsession with wealth and material success.
———–
29 Aug 2012
Normally I don't really bother following Korean pop (K-pop to me could be translated as Kadazan/Dusun pop), except the odd song or two, although I have to say the sights are rather inviting; but since the Oppa Gangnam Style phenomemon has even invaded local airwaves and seems to be on twitter trends every day, I simply had to check it out.
Well I wasn't really thrilled by the original, except for PSY's interesting galloping-horse dance moves which somehow reminded me of Borat's shuffle, Monty Python and The Holy Grail, the classic 1975 movie.
But then I saw this, a video by Jack's Stuff Videography Production, a Sabahan outfit headed by Jack Wong.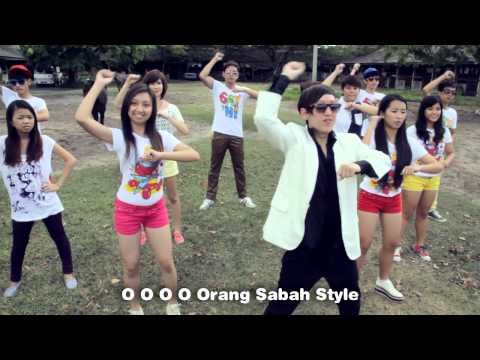 Now that was very entertaining indeed – and try playing it side by side with the original, or perhaps even try playing it through a guitar amplifier at Guitar Center?!
They might not have as big a budget as PSY or silky smooth moves like HyunA, but being a Sabahan, the little nuances (paper plane vs big plane, girl with fan labelled Orang Sabah Style, Ampal's face and Sabah Bruno Mars), Sabah promotion and the Merdeka tie-up all fit very nicely.