Putrajaya became Malaysia's administrative centre in 1998.
Dubbed "Blogger Gila" and "Kamikaze Couple."
Happened around 2.30pm on 9th July 2012 and rampage lasted for 20 minutes.
3 shots can be heard starting 0:30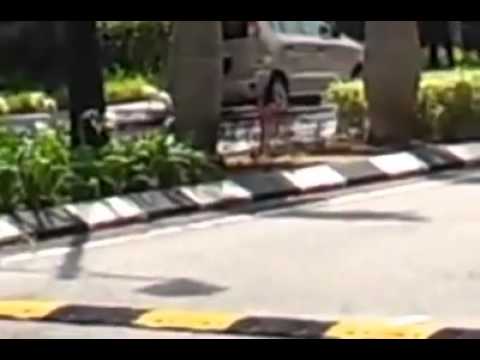 Perpetrators:
Khalil Afandi Abd Hamid, 47, married with 1 child, unemployed (he wrote: for 8 years already), died around 3pm. Had wanted to overthrow the government since March 2011. Told his wife that he is Imam Mahadi. Created a blog in September 2010 entitled "Gila Apa Manusia", has no entries, only contains a shirtless photo of himself. In another blog entitled Jaya Negara, which he created in May 2012, he was much more active, with 17 posts in June 2012, the first post on 4th June, and last post on 30th June. In the About Me section he wrote "Hidup ini bukan untuk diANJINGkan bagai Polis Diraja M'sia dan Tentera." What he commented in a blogpost of his female companion's younger sister on 3rd March 2012 summarised his worldview:
Aku akan bicara secara bersemuka pada pemerintah ataupun sesiapa. Tidak ku peduli nak jadi apa.. Aku akan usaha sampai berjaya. Gila apa manusia. Tidak aku sombong …. tidak juga bangga… aku juga manusia biasa. Diusia muda tatkala aku tak kenal aku ini siapa…. kamu penguasa negara hanya mampu membiarkan saja…. kupukul sesiapa ku suka tak ku peduli Neraka. Kini diusia tua 47 tahun umurku… sudah aku kenal aku ini siapa… aku adalah Raja Dunia. Diam semua kamu! Tatkala aku bicara.. hidup kamu ini untuk apa. Susah sengsara manusia kamu biarkan saja….. kamu semua memang celaka. Hormat lah kamu pada Raja…. aku peduli apa. Aku datang merampas singgahsana… turun kamu Sultan Gila dari tahta… kini aku nak ambil alih kuasa. Saat dan tika sempadan takdir dari PEMUNYA… aku pasti datang meregut kuasa dari jantung-jantung setiap yang bernama Raja. Ikut aku atau kubunuh semua… aku tak peduli kamu siapa…. Kerana apa? Aku adalah Raja Dunia anugerah dari Allah Tuhan ku.
He last interacted with his blog on 3rd July as a reply to a comment from "Gila Manusia" / "Dhada" who most likely is the woman who accompanied him on that fateful afternoon:
Dhada yang budiman, manusia ini punya kekuatan yang sangat-sangat hebat. Mari kita belajar apa itu Kun Faya kun yg sebenarnya…KUN FAYA KUN…. ini anugerah dari Allah untuk Aku. Cuma aku….. fahamkan ayat yang kutulis ini. Aduh! bergetar tubuh badan aku untuk beritahu Kun Faya kun anugerah cuma untuk aku. Demi Allah.
Has Facebook accounts Khalil Afandi and Jaya Negara. Handphone number: 01116342016, IC number: 650724106631.
Muhdalena Ahmad, 28, a mother of 2 small children (1 and 2 years old), graduate of Universiti Islam Antarabangsa Malaysia (UIA) where she did Comparative Religion, IC number: 840627105642. Her husband said she was influenced by Khalil's blog. 2 days before the incident she moved her children to her parent's house, saying "she'll be busy for a few days". Has a Facebook account with her real name as part of the URL and, ominously "Daleane Hada" as the user name displayed.
Khalil and Muhdalena are friends, they are married to other people, it was reported that they have apparently known each other only for a week before the incident, but judging from her response to his blogpost on 4th June 2012, most likely they've known each other for longer.
Khalil initially wore a green jacket but then took it off when he went on his rampage. He might even have carried leather briefcases for men on the way.
Police said they were dropped off at the building by someone else.
Source
Various online sources – news portals, blogs, forums