I first came across her blog sometime in 2011 with her bluntly honest take on Kota Kinabalu. Perhaps that time nobody took notice, but this time could be different.
Hong Yi, 26 is a Sabahan who's working as an architect for an Australian company in Shanghai.
On 10th January 2012, she uploaded to youtube a time-lapse video of her painting basketball superstar Yao Ming onto a canvas using only a basketball and red paint.
Then she casually mentioned it on her Facebook page the next day.
After that, the viral power of the internet took over, earning her attention from the likes of Yahoo!, NBC, Huffington Post and Gizmodo.
Apparently first mentioned at Gizmodo on 24th January: that's when the view numbers really picked up, the site has since generated more than 50,000 views.
3 weeks later, it now has more than 443,000 views, with the following milestones:
01/26/12 First embedded on – tabonito.pt 26,396
01/25/12 First embedded on – cnn.com 13,752
01/25/12 First embedded on – blic.rs 11,739
01/25/12 First embedded on – 10minutesaperdre.fr 7,860
01/24/12 First embedded on – gizmodo.com 37,629
01/24/12 First embedded on – thedailywh.at 12,071
01/11/12 First view from a mobile device 41,564
01/11/12 First embedded on – facebook.com 24,804
01/11/12 First referral from – facebook.com 10,206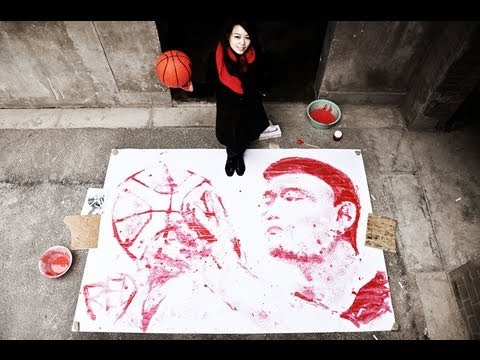 She could be the first Sabahan to be a true worldwide internet celebrity.