Update 2 November 2011
Moments before the collision, the train driver frantically blared his horn non-stop. At the point of impact, passengers were thrown from their seats and chaos ensued as fumes started to enter the carriages. Some passengers were reported to have said that the explosion happened almost about the same time as the crash.
That victims only suffered minor fractures was described as a miracle. Earlier rumours floating about said that many had died.
More:
- The state government has ordered a full investigation into the incident.
- There are 70 illegal railway crossings, but there are no warning signs saying so
- The 134km Kota Kinabalu-Tenom railway line upgrade, which started in November 2005 and completed in February 2011 cost RM334 million, and could've included the cost to resolve the crossing issue.
- Ever since the railway services re-opened, there had been a few minor accidents at the crossings.
———————-
31 October 2011
I was driving home today around 5.45pm when I saw a thick, black column of smoke in the distance. That could only mean one thing – something big is burning.
That turned out to be what State Railways General Manager, Hj Mohd Zain Hj Mohd Said, was quoted to have said: the worst accident in the history of Sabah Railways, even worse than the Padas River train plunge of 9th April 2008.
It had only restarted its services in February.

[Photo credit: The Star]
Newsreports reported that at least 12 have been seriously injured, when a tanker laden with 27,000 litres of petrol, which was being driven through what has been described as an illegal crossing in order to deliver fuel to a Shell gas station, was rammed by a 4-carriage train with 200 commuters which had just left the Secretariat (Wisma Kewangan).
The impact caused the front carriage to be derailed, while the second carriage landed on top of the tanker, causing a huge explosion. Amazingly, the 41-year old driver of the tanker survived.
By 11pm, at least 4 different videos have been uploaded to youtube.
This could be the first ever video taken after the impact: taken by someone who drove past around 5.20pm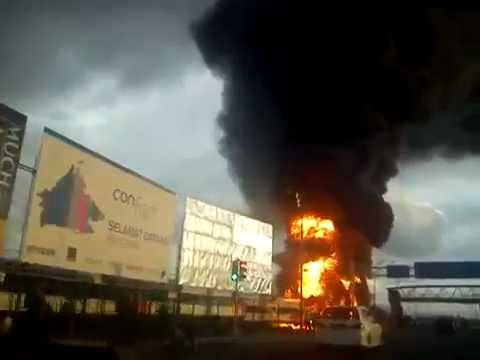 The following must have been taken a few moments later, when the petrol trail caught fire
TV3′s footage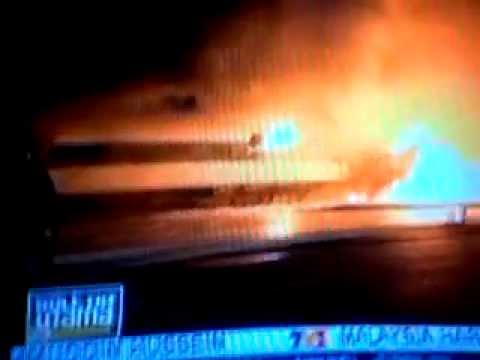 The following must have been taken after the firemen arrived. What happened to the fuel tank – completely disintegrated?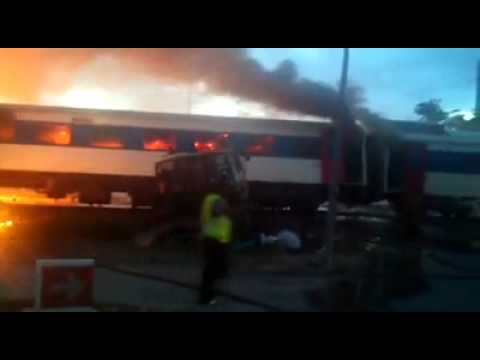 Source
The Star