Update 2 Feb 2014
Popimasi was formerly known as Papier Mache.
———————–
UPDATE 28 Feb 2011
Papier Mache's performance recorded on amateur video: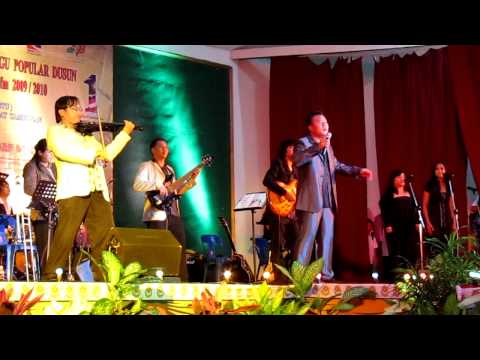 Winners list:
- Champion: Francis Landong – Pointopot Tupus Ku
- Best songwriter: Harry Wong, for the song Pointopot Tupus Ku
- Most popular song (via SMS): Ester Subin – Poingkaa Nangku Katapatan
- Best lyrics: Ramli Ahmad, for the song Tupus Om Pirotian
- Best vocals: Donna Masidah – Tupus Om Pirotian; that acapella moment when she held a note for what seemed like forever must've tipped the balance in her favour.
- Best performance: Ronn – Esther; fully agreed – his was the most elaborate and touching arrangement, complete with at least 8 actors/actresses. It was like watching a music video.
The rest got trophies and some cash too.
Congratulations! Getting to the final is already a big achievement, may this spur local talents to strive for greater heights.
——————————-
As a result of them topping the Juara Lagu Dusun charts (local Sabah music charts in the Dusun language) for several weeks in 2009 with their song "Matai Patai Do Masi", Papier Mache has qualified to enter the final of the competition to be held in Tambunan Community Hall on 26th February 2011.
They are the only group to make the final.
As far as I know, this is the 3rd edition of the competition, the first being in 2007 and the second 2 years later.
Their jingle which is now playing on RTM's SabahVfm radio channel: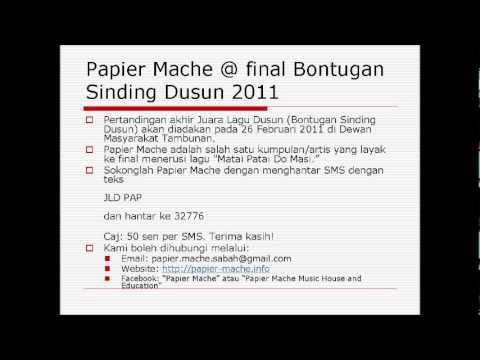 If you're in Malaysia, please support them by sending an SMS to 32776 with the text JLD PAP. Thank you.
I am planning on staying overnight in Tambunan in order to catch the show, I think the place selected to crash shouldn't be too cold at night as to require heated blankets.
The other finalists are:
1 Esther Subin – Poingkaa Nangku Katapatan
2 Wilson Lion – Au Milo Boroson
3 Ridah – Sopirosi-rosi
4 Jovell – Sosol Ku Doho
5 Angat Wilfred Sindam – Tupus Polombusanku
6 Ronn – Esther
7 Floriend @ Uta Khoming – Piginawaan
8 Francis Landong – Pointopot Tupus Ku
9 Donna – Tupus Om Pirotian
May the best artiste win!