Update 17th June 2009
It's been pointed out to me that the larger dog is Coca-Cola and the smaller one, its daughter, is Pepsi-Cola.
————————–
It became infamous when it was paraded by its owner at KDCA Hall at the height of the Kaamatan celebrations (end of May 2005) dressed in what looked like Kadazan/Dusun traditional attire. In local culture, that is taboo.
The incident was furiously debated in a top local newspaper for some time.
Someone took a video of it then: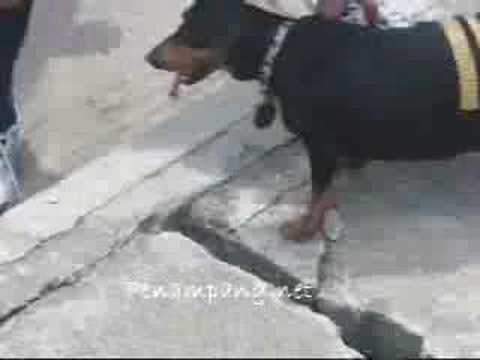 The dog is a regular sight in and around Kota Kinabalu, in invariably different and colourful costume every time.
Rahma saw the dog towards the end of May 2009 at Gaya Street Sunday Market:
The owner:
Dorina took the following photo in January 2006:
Disney took the following photo in January 2009 (?)
Elleycia took the following photo on 30th May 2009 at KDCA Hall:
I took the following photo on 31st May 2009 (the following day) at KDCA Hall: