25th January 2009 (Chinese New Year eve)
It's the usual pre-CNY family dinner. Highlights include several rounds of angpow (red packet containing cash) giving. Apart from watching fireworks, this is one of the kids' all-time favourite activities.
A typical scene:
Then there was an impromptu lion dance show by the kids.
This is what happens when the lion dance meets the Melbourne Shuffle: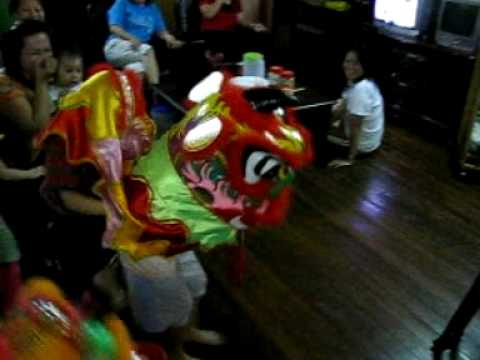 26th January 2009 (Chinese New Year day 1)
After a typically lazy morning, in the afternoon we went to Tuaran Pagoda's CNY open house:
Then to the Tuaran Crocodile farm to catch the 3pm show which includes kissing the nose of, and putting one's hand inside the mouth of a fearsome 1,500 pound, 15 feet long croc.
…followed by a late lunch at the famed Salut Seafood Restaurant, which had a place to have a good walk on the sea after a hearty meal:
27th January 2009 (Chinese New Year day 2)
Went to the annual CNY open house at my mom-in-law's sister's house.
The kids of course loved 2 things the most.
First, the lions:
Second, the angpow (very long queue this time!):
There was a small lion that had a big heart and "fought" with one of the four big lions that came: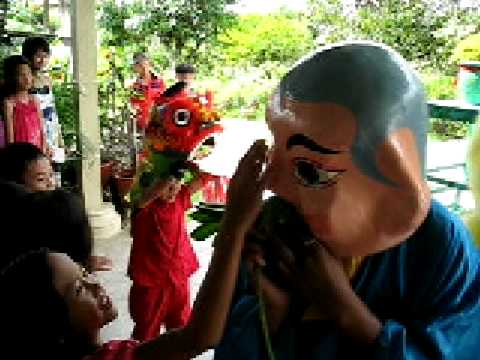 One of the lions drank seven (!) cans of Tiger beer on the trot. By the end of it, it was probably not just metaphorically drunk, but also the guys playing it:
After what seemed like an hour, the show was finally over:
Then I was back to the cards table…
Here's to a prosperous year of the ox!
… it was better than an Outer Banks vacation ?!