3 years and 10 songs (6 Kadazandusun, 2 Bahasa Malaysia, 2 English) later, they finally did it.
If you're tired of "MIDI songs" and want to hear real musical instruments being played by a true-blue Sabahan pop/rock band, this album is for you.
Apart from having the expected solid melodies, arrangement wise I'd say they went further than most local artistes; there are extended instrumental breaks, for example that minute-long violin-led solo in "Oiyad" and "Iya Om Iya" and that 90-second guitar riff fest reminiscent of Led Zeppelin in "Itu Bukan."
As a result, the shortest song clocks in at 4:22 (Nung Olingan Oku Dia) while the longest, "Itu Bukan" is at more than 7 minutes.
Further setting them apart is songs like "Iya Om Iya" which I have never witnessed being attempted in Dusun language before: retro images of smoky bars come to mind.
Lyrics wise, apart from the usual love songs, there is also the socially-aware "Misompuru", which calls for a united society.
Here are some previews, snippets of songs off the CD.
[UPDATE: 16th July 2009: I'm having problems with the internal player, please listen to the previews here. Apologies for the inconvenience.]
"Growing in the light" was written and sung by the group's multi-instrumentalist Gilbert "Ebert" Lajim.
"Nung nolingan oku dia" has an opening piano and vocal melody that I think Elton John would be proud of. It was written by Gilbert "Ebert" Lajim, with Cyril "Kuak" Johnny on lead vocals. This song is being played almost daily at SuriaFM (105.9 in Sabah) by DJ Othoe: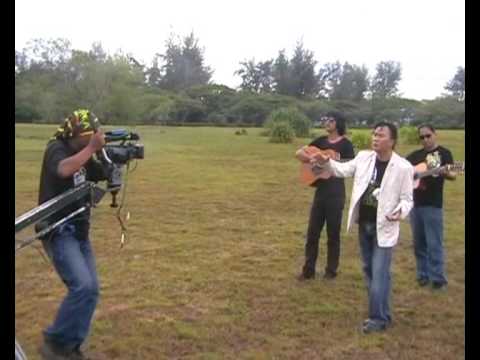 "Terima kasih" was co-written by the group's bassist Ezbon "Golib" Godomon and Cyril "Kuak" Johnny. Kuak's on lead vocals.
"Stream" has an excellent riff and a U2-influenced soaring chorus. It was written by Ezbon "Golib" Godomon.
"Matai-patai do masi": I don't know about you, but I have never heard an original Dusun song so heavily early-60s era Beatles-influenced and executed so well. It was written by Gilbert "Ebert" Lajim and the vocals handled by both him and Kuak. Ebert's two sisters did the backing vocals. I think this will be a favourite with concert audiences.
Please support our local musicians.
If you like what you hear, and would like to purchase the CD (RM20) or cassette (RM13), I was informed that you can get them at music stores in Kota Kinabalu, Penampang, Kuala Lumpur and Johor. I have personally verified that they are available at CKS Donggongon and Polysound Kg Air.
Alternatively, I also keep some in stock. Please email me at bengodomon@gmail.com or leave a comment.
About the album
The songs were mostly recorded and mixed at Universiti Malaysia Sabah (UMS), probably the most advanced recording studio in the state. It was mastered by Roger Wang (RAM Studio) and released under TJC Talent Studio of Tenghilan.
Front:
Back:
… does one of them look like he's wearing a 5.11 Tactical Jacket?