————————————————
Tip of the day:
Get a new CAR by playing on the slots software of the on line casino at Gambling City, the place to find an online casino game and play roulette!
————————————————-
Update 19th June
Ms Elizabeth Luan, in her comment in mrbadak.com's blog post about this datestamped 18th June, 12.36pm said:
It is quite interesting to know that there are still many non-believers out there. I have visited the place and took some picture of the cross. I was skeptical but when I saw some more picture that looked like our Lord Jesus and Mother Mary, I was astonished. I have interviewed the lady who was the first person who saw the cross on the coconut leaf. I find it quite interesting because she was not a Christian and her husband was paralysed. But she has been praying and one day a voice (male) asked her to look up. And there she saw the cross! From then onwards, her paralysed husband can now walk and they all converted to Christian. I dont know about you all, but I do believe her story and I have recorded it. Hopefully, I will be able to burn it to cd so that I can distribute to all who are interested to know how actually it has started. And for those who said the cross was caused by bugs or insects, can you please tell what insect/bug that is so intelligent to create a cross on a coconut tree? It will be interesting to know.
It is yet to be confirmed whether she's talking about the event at Kg Ulu Patikang or at Kg Masak, since the New Sabah Times' report on 11th June said that she's a Catholic (I am assuming Catholics are also considered Christians) and did not say anything about the state of the lady's husband's health, except that he's an odd-job worker.
New Sabah Times carried a further report on 11th June: it said that thousands of people have since come from as far away as Sandakan to this place located a 10-minute drive away from Keningau town to see the trees for themselves since 18th May, 6.30pm: the date and time the images supposedly first appeared and seen by Felnny Jelius, 12, who while she was inside her house, heard a voice speaking to her from above and outside.
In fact, I saw somewhere a supposed picture of Felnny but can't recall where it is now.
Looking up, she saw the cross on the coconut tree "with shimmering lights penetrating it." According to her mother, Nulitah Tuin, there are in fact 2 crosses, each visible from either side of the tree. Her family are Catholics, economically poor and 2 of the children, Felnny herself and Feliney, 6 are thallassemia sufferers. Nulitah has another child, 11-year old Didi, a boy.
Evin Mahap came to visit the tree at Kg Ulu Patikang 3 times and on 4th June around 6.15pm he "noticed something in front of the coconut palm." While taking the pictures. he noticed that he "could see the image of Lord Jesus through the viewfinder but not through naked eyes." He further said that as far as he knew, "at least six different images of Lord Jesus and Mother Mary were captured through the digital cameras of six different people."
The paper also reported that at least 5 crosses have formed on 2 trees at Kg Masak.
——————————–
Update 17th June
The Catholic Bishop of the Diocese of Keningau, Cornelius Piong has issued a special pastoral letter dated 12th June 2007, with the following text. Thanks to Rose for the alert.
To all Priests, Religious and Laity of Keningau Diocese

May the peace of Christ be with us all.

I write this special Pastoral Letter in view of the phenomenon happening in Kg Patikang and Kg Masak Keningau and the perceptions held by some Catholics. This phenomenon involves apparitions of a cross and Mother Mary 'claimed' to be seen by many people and proven with photos. However, these are only images.

To all Catholics and groups in each parish and mission, we must be cautious in accepting and believing in a phenomenon such as this. In cases like this, the Church will not rush into accepting and approving it per se.

If this phenomenon is true, it will definitely bear good fruits in the lives of the faithful and society. Among them, the faithful will be aware and fulfill their responsibilities toward God, one another and society.

In short, if this phenomenon is true, a sense of repentance will well-up among the faithful and in society. For those who have seen the images and are touched personally, well and good, for this is the effect that we are hoping for.

However, let us realise that true Christian faith is based on faith and our right personal relationship with Jesus.

He is present to us through the Sacraments, His Word, through one another and in His creation and is not influenced by 'apparition' as the phenomenon occuring at Kg Patikang and Kg Masak, keningau.

No matter what, phenomenon such as this must be perceived carefully and with wisdom:

i) The Catholic Church through the Diocese of Keningau does not approve it per se. Catholics are advised not to do the following: 'donate money to the coconut tree' (as some people may take advantage of the situation), conduct novena, pray the rosary, kneel and light candle beneath the coconut tree – these may depict false worship and shallow faith.

ii) Revelation of God is complete through Jesus His Son (Heb 1:1-2). There is no need for us to search for external signs to signify the presence of God. God is usually present in ordinary ways so much so that we fail to recognise and accept Him (Jn 1:10-14).

iii) Usually the revelation of Jesus or Mother Mary takes place on a personal basis, as in Lourdes and Fatima, not with images. Falsification may happen in religious matters.

St Paul has reminded the faithful in Corinth on deception and false apostles, "for Satan himself masquerades as angel of light…" (2 Cor 11:3, 14).

In this IT age, people can falsify many things, documents, images, etc. Don't let ourselves be influenced. What is most bizzare is that the said 'apparition' can move from place to place.

Let us not be disturbed, influenced or even fooled by the various perceptions and assumptions made regarding this phenomenon (Mt 24:4).

True faith is faith in Jesus, united with Him and consistently doing His will through the Church and in our daily lives (Mt 24:13, 23).

As faithful in the Diocese of Keningau, let us continue to be united and faithful to Jesus and His Church in our daily lives, guided by our Diocesan Pastoral Theme, wanting and choosing to serve only Him, our Lord and to form our faith and social responsibilities.

Let us together be responsible in facing this phenomenon so that our actions will not give room and opportunity to others to exploit and abuse the Church, the cross and Mother Mary for personal gains through fearful threats such as 'chain SMS' etc.

"Eucharist: core of our culture of worship, faith formation and social responsibility."

Bishop Cornelius Piong
The text of the letter can also be found at the official website of the Catholic Diocese of Kota Kinabalu.
——————————-
Update 15th June
Video taken on 7th June 2007 starting 6 something pm of the coconut tree at Kg Masak, Keningau. Kg Masak is located near Kg Ulu Patikang. It shows what it's like to walk to the place where the coconut tree stood, passing by the many people going back home after having a look, the people milling around the tree even though it was already getting dark, then finally the tree itself as it contrasts with the darkening sky. Apparently, for this particular tree, the cross only appeared the day before i.e. 6th of June.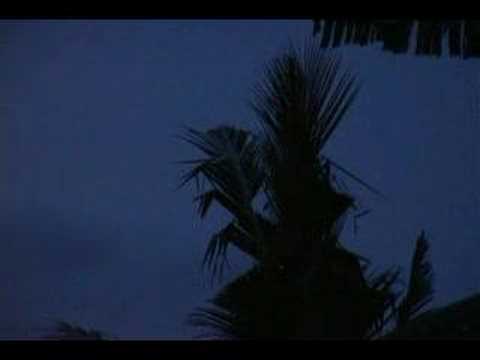 ——————————
Update 14th June
raburabu-ame wrote in her blog entry dated 12th June and timestamped 1.42pm that she visited the place late on the 10th of June and the next day too:
We went to see it shortly after arriving and it was already late but when I arrived, I could see it for just a few moments before darkness took over. I couldn't take a picture that time because it was already too dark for even my dad's digital camera to work. So we went back the next day. The villagers there told us that the night before, there was a very bright light, and a person resembling Jesus with His arms raised on top of the coconut tree. It happened around 10pm. Too bad we missed it. No pictures of that though, because just as people were scrambling to get their cameras, the apparition disappeared.
———————————
Update 13th June
Annie Petrus has created a photo montage of the pictures that she took. It includes pictures not previously shown on her blog.
———————————
Update 12th June
Ms Cathrine Stephen has sent me 2 new pictures which she claimed to have taken herself last week.
The 1st picture is what she titled "Virgin Mary kneeling" and dated 8th June:
The 2nd picture is of the Virgin Mary on 10th June:
—————————————————————-
Update 11th June
In the last few days I have received 2 chain SMSes with the following message [in Malay]:
AKU MARIA BUNDAMU merasa sedih dan duka melihat penderitaan manusia. Kirimkan kepada 9 orang dan esok anda akan menerima berita baik. Pesanan dari Pope m s 6-1. Kemunculan salip di daun kelapa di Kg Patikang dan di Kg Masak Keningau.
Translation:
I, Mary your Mother, am feeling sad seeing the suffering of humankind. Send [this SMS] to 9 people and tomorrow you will receive good news. News from the Pope m s 6-1 (sic). The appearance of cross(es) at coconut leaf(es) at Kg Patikang and Kg Masak, Keningau.
—————————————————————-
Annie Petrus Sapil, a studio photographer from Keningau has taken higher quality pictures of a coconut tree at Ulu Patikang and another coconut tree and rumbia tree vaguely showing a figure apparently at another place at Jalan Bariawa. She created a blog to showcase the pictures at stories-from-keningau.blogspot.com
Here's one of the pics she posted which nicely shows the position of the tree at Jln Bariawa in relation to the nearest house.
Another picture from her blog which shows the tree at Kg Ulu Patikang:
Another picture from her blog which shows the crowd at Kg Ulu Patikang:
—————————————————————–
According to New Sabah Times and Daily Express on 8th June 2007, it started on 18th May.
Little bird 1 said:
there are 4 coconut trees in which a leaf end of each look like Christian crosses;
3 of them are in Kg Masak Villa – the trees are about 20m apart. Little bird visited a tree in this village and said that after asking around, apparently the cross only appeared on 6th June;
the other one is at Kg Ulu Patikang, which is located near Kg Masak Villa
one of the coconut trees bears an image of the Virgin Mary;
all hotels in Keningau are now fully occupied by out-of-town people flocking to see it.
I was forwarded a set of pics from a Ms Cathrine Stephen, dated 6th June. She vouched for the authenticity of the pictures.
Image of Virgin Mary among coconut leaves
Close up image of the Virgin Mary
This one is a circular object which seems to float above the leaves. She said many believe the circular object is a "body of Christ" (= the host = a thin, round wafer made from bread and used for Holy Communion in a Catholic mass), and that even the nuns said so. She said after forwarding this picture to her overseas friends, they said it [the design] seems to be from the Roman Empire period.
A closeup view of the circular object:
Today she sent me another picture which she took herself on the 7th of June. This seems to have been taken at daytime, from exactly the same spot as the picture bearing the circular object above. Can you see the cross?
She further said on 7th of June, 2 nuns saw the Virgin Mary wearing a crown.
Little bird 2 said that a girl suffering from Thalassemia living near the tree was the first person to see the miracle, and that her ailment was found to have been cured on her next visit to the hospital.
Little bird 2 further said that apparently this is the 2nd time an apparition of the Virgin Mary has appeared in Sabah. The first was in the early 1970s on a riverbank of the Papar River. After it was "blocked from view by the authorities", it was never seen again.